Map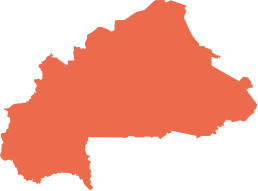 Country synopsis
Le Burkina Faso est confronté à une crise complexe à multiples facettes due à l'intensification des activités des groupes armés (sécurité), aux tensions intercommunautaires (protection), à l'insécurité alimentaire et nutritionnelle chronique, aux inondations et aux vents violents (catastrophe naturelle).  L'insécurité croissante a entraîné des déplacements massifs de population, tant à l'intérieur de leur propre région que vers d'autres parties du pays. Ce défi sécuritaire a entraîné la fermeture de certains services sociaux de base tout en limitant leur accès par les populations vulnérables telles que les femmes, les enfants, les personnes vivant avec un handicap, les personnes âgées, etc. Entre février 2018 et janvier 2023, plus de 1 938 792 personnes ont été contraintes de quitter leur domicile pour trouver protection dans d'autres communes. Elles arrivent dans des localités confrontées à la fermeture des établissements de santé et des écoles en raison des violences. Plus de deux millions de personnes dans les communautés non déplacées sont gravement affectées par la détérioration de leurs conditions de vie, ce qui les rend dépendantes de l'aide humanitaire. L'absence de perspectives de résilience pour plusieurs milliers de familles continue d'augmenter le nombre de personnes vulnérables aux chocs. Ainsi, pour le Plan de réponse humanitaire - HRP 2023, plus de 4,6 millions de personnes auront besoin d'une assistance humanitaire en 2023, dont près de 60 % sont des enfants.
Response overview
Chiffres clés - Plan de réponse humanitaire 2023
Key figures - Humanitarian Response Plan 2023
| | | | | |
| --- | --- | --- | --- | --- |
| 931K | 550K | 11.3M | 5 | 6 |
| PERSONNES DANS LE BESOIN | PERSONNES CIBLÉES | FINANCEMENT REQUIS | PROJETS | PARTENAIRES |
Objectifs
Objectives
Renforcer l'accès sûr, égal et coordonné des PDI dans les sites d'accueil temporaires, les zones d'accueil de déplacés et les établissements similaires aux services multisectoriels. 
Strengthen safe, equal, and coordinated access to multi-sector services for IDPs in temporary reception sites, IDP reception areas, and similar facilities.
Identifier et permettre un meilleur environnement de protection et d'assistance aux personnes déplacées. 
Identify and enable a better protection and assistance environment for displaced persons.
Renforcer la résilience individuelle et communautaire par l'autonomisation des PDI, leur participation aux décisions qui affectent leur vie, la communication entre les acteurs de l'aide humanitaire et les communautés, ainsi que la cohésion sociale entre les PDI vivant dans divers espaces d'accueil et les communautés environnantes.
Strengthen individual and community resilience through the empowerment of IDPs, their participation in decisions that affect their lives, communication between humanitarian actors and communities, and social cohesion between IDPs living in various reception spaces and the surrounding communities.
Évolution des chiffres des personnes déplacées Internes
Evolution of IDP figures
Cartographie des sites et zones d'accueil des PDI
Mapping of IDP sites
Formation et renforcement des capacités
CCCM cluster Capacity Building
FROM HUMANITARIANRESPONSE.INFO
Contacts
Sialla Justine DEDE
United Nations High Commissioner for Refugees (UNHCR)
Coordinatrice Nationale
dedeepse@unhcr.org
+226 05009716 (Mobile) 
Majdalina SERBAGI
ACTED
CO-Coordinatrice Nationale
majdalina.serbagi@acted.org
+226 05009716 (Mobile) 
Eric Bazie
United Nations High Commissioner for Refugees (UNHCR)
Gestion de l'Information
bazie@unhcr.org
+226 05012503 (Mobile)