Map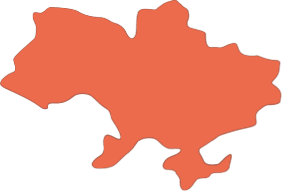 Overview
Since February 2022, over 6 million people have become displaced internally, mainly from the eastern, southern, and northern areas of the country. The number of collective sites across Ukraine has increased from 160 in 2021 to 7,200 centers that have the capacity to host almost 500,000 people.
IDPs staying in collective sites, established mainly in schools, kindergartens, and university dormitories, are considered to be among the most vulnerable of the displaced population in the country. They often live in sub-standard conditions with a lack of private spaces, limited bathing and kitchen facilities, and in need of basic NFIs. Needs vary and fall under multiple sectors, requiring coverage of needs and CCCM-coordinated response from humanitarian actors across sectors including protection, shelter, health, WASH, food, and livelihoods.
In Ukraine, government and other local actors are the primary managers of collective sites hosting IDPs. The CCCM Cluster is supporting CS management and coordinate assistance delivery among humanitarians and engage affected people and other stakeholders to ensure humanitarian standards and principles are met and implemented.
Cluster objectives
Improve living conditions in collective sites (CSs) through enhanced site coordination and management
Strengthen the self-organization of the displaced population and improve access to information
Build the capacities of the Cluster partners and relevant stakeholders
Cluster 5W Achievement Summary