Map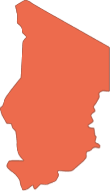 Overview
Security threats around Lake Chad, most notably from Boko Haram (BH), and military operations to contain them have displaced civilians from their homes and disrupted livelihoods. Insecurity has also pushed Nigerian refugees into Chad since 2014, creating a complex displacement crisis across the islands and shores of Lake Chad. Large and protracted refugee populations, mainly from Sudan and CAR, in the south and east of the country also face significant humanitarian needs.?
IDPs and host families in the Lac region are predicted to experience Crisis (IPC Phase 3) levels of food insecurity until September, as violence and displacement affect access to markets and fishing activities. Food insecurity will affect 5.1 million people across the country during the lean season, including over 1.7 million severely food insecure due to the decrease in agricultural production and the weakness of water resources in the region. The nutritional situation remains worrying in the whole country, with an alarming state in 15 of the 23 provinces. For children under 5, global acute malnutrition (GAM) has reached the 10% alert threshold for nearly 1.9 million children.? 2 million people are in need of WASH support across the country. Only 61% of the population have access to water and 33.5% of the population is able to access clean drinking water. Basic sanitation coverage is as low as 12% and only 37.7% of the population have access to a hand washing facility with soap and water. Lack of drinking water, hygiene and sanitation infrastructure lead to the deaths of around 19,000 people each year.?
The COVID-19 pandemic has caused an 87% increase in the amount of people in need of health assistance in Chad, from 950,000 in January 2020 to nearly 1.8 million in May 2020. This is largely due to poor access to basic social services and increasing numbers of disease outbreaks. In addition to COVID-19, Chad is also facing a measles outbreak.?
Latest Developments
An estimated 20,000 Chadians and Sudanese have crossed to Chad since 15 April 2023, while another 100,000 are likely to arrive mostly from Nyala and El Geneina towns. As at 22 April, the violence had produced as many as 37,000 IDPs in Nyala and 17,000 in North Darfur. The new arrivals are staying in Ouaddai and Sila provinces in Chad and need food, water, and shelter.?
Response overview
Key Figures - 2023 HPC

 
1,013,944
People targeted
Objectives
Improve the living conditions and physical protection of IDPs and returnees through effective coordination of shelter actors.
Improve the living conditions of IDPs and returnees through the distribution of emergency shelters and the construction of transitional/semi-durable/sustainable shelters or through the rental system in a nexus vision.
Contribute to meeting the basic needs of IDP and returnee households through the distribution of essential household items in kind or in cash.
Contribute to the resilience and self-reliance of IDPs, returnees and host communities including people living with disabilities through paid shelter work.