Image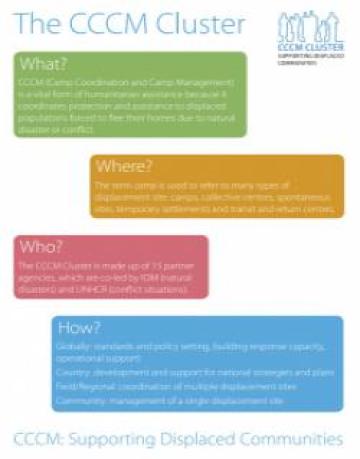 The CCCM Cluster
What?
CCCM (Camp Coordination and Camp Management) is a vital form of humanitarian assistance because it coordinates protection and assistance to displaced populations forced to flee their homes due to natural disaster or conflict.
Where?
The term camp is used to refer to many types of displacement site: camps, collective centres, spontaneous sites, temporary settlements and transit and return centres.
Who?
The CCCM Cluster is made up of 15 partner agencies, which are co-led by IOM (natural disasters) and UNHCR (conflict situations). 
How?
Globally: standards and policy setting, building response capacity, operational support)
Country: development and support for national strategies and plans
Field/Regional: coordination of multiple displacement sites
Community: management of a single displacement site