Image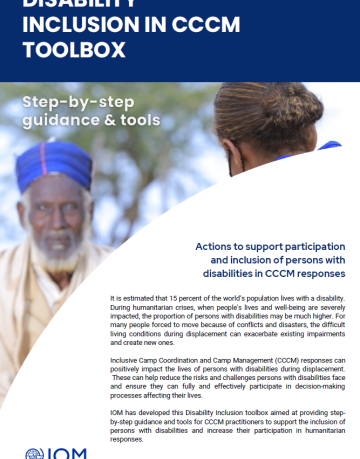 The Disability Inclusion (DI) in CCCM Toolbox, developed and field tested in Bangladesh (Cox's Bazar), Ethiopia, Fiji and Mozambique in collaboration with partners, local authorities and Organizations of Persons with Disabilities (OPDs), offers step-by-step guidance and tools for CCCM practitioners to implement more inclusive responses. It includes 6 key actions to support the inclusion and participation of persons with disabilities in displacement sites, related guidance for implementation, and tools and practical resources for Site Management teams.
The Toolbox also serves as a repository of lessons' learned on inclusive CCCM responses, case studies and videos from the field. A folder is dedicated to resources for Clusters, including tip sheet on HNO/HRPs, examples of country-level CCCM Cluster action plans on Disability Inclusion, comprehensive assessments on barriers to inclusion and enablers and more. A second edition will be released in 2024.
Developed with the support of USAID/BHA, this IOM resource can be downloaded by CCCM partners worldwide. To access specific tools, resources and videos you may contact globalcccm@iom.int .